This was first written in January 2016

Sentiment is quite common in the book world and often the author or a title of a book taken from a dusty shelf can bring a smile as the handler is instantly taken to a special time or childhood memory. Sometimes it may be the edition or printing that excites but recently for myself it was because of the bookbinder.
Last year we were given a number of boxes that had been in storage by the Irish Manuscripts Commission since the 1950's. It was common for books to be printed in larger numbers than required for binding with the remaining book blocks put into storage for a later time if required or if stock was running low.
What brought a smile was that these books had been printed and bound in the 1950's by Alex Thoms of Botanic Road. In the 1950's in Thoms, Paddy Duffy (my great grandfather) was the bindery foreman and also working in the bindery was his son, Tommy Duffy (my grandfather).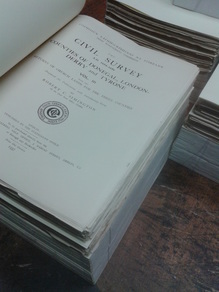 This is where the imagination can run but it is not impossible that under the instruction of his father, Tommy, after binding the agreed run, packed away the remaining book blocks only for them to be given to his sons and grandson over sixty years later to bind, in a family business that he would begin.
There cant be two many titles published, of the same print run, where it is possible that four generations of Bookbinders from the one family worked on the one job, hence a sentimental smile from this bookbinder