100 ARCHIVE- OUR 2018 CONTRIBUTION
100 ARCHIVE
is described as a living archive which maps the past, present and future of Irish Graphic Design. Each year an independent panel of judges choose 100 Archive selections from submitted projects. Founded in 2012, the Archive selects from books to posters to rebrands for small and international business.
Every year we are lucky to work alongside very talented and creative Irish Graphic designers and letterpress printers, who continue to make us strive for both quality and creative craftmanship produced from our bindery. Last year we were delighted to have worked on two projects selected for the 2018 100 ARCHIVE, a presentation clamshell box, titled
1916 The Irish Rebellion
, designed by
Conor Clarke
at
Design Factory
and
Nine Silences
by
Jamie Murphy
at
The Salvage Press.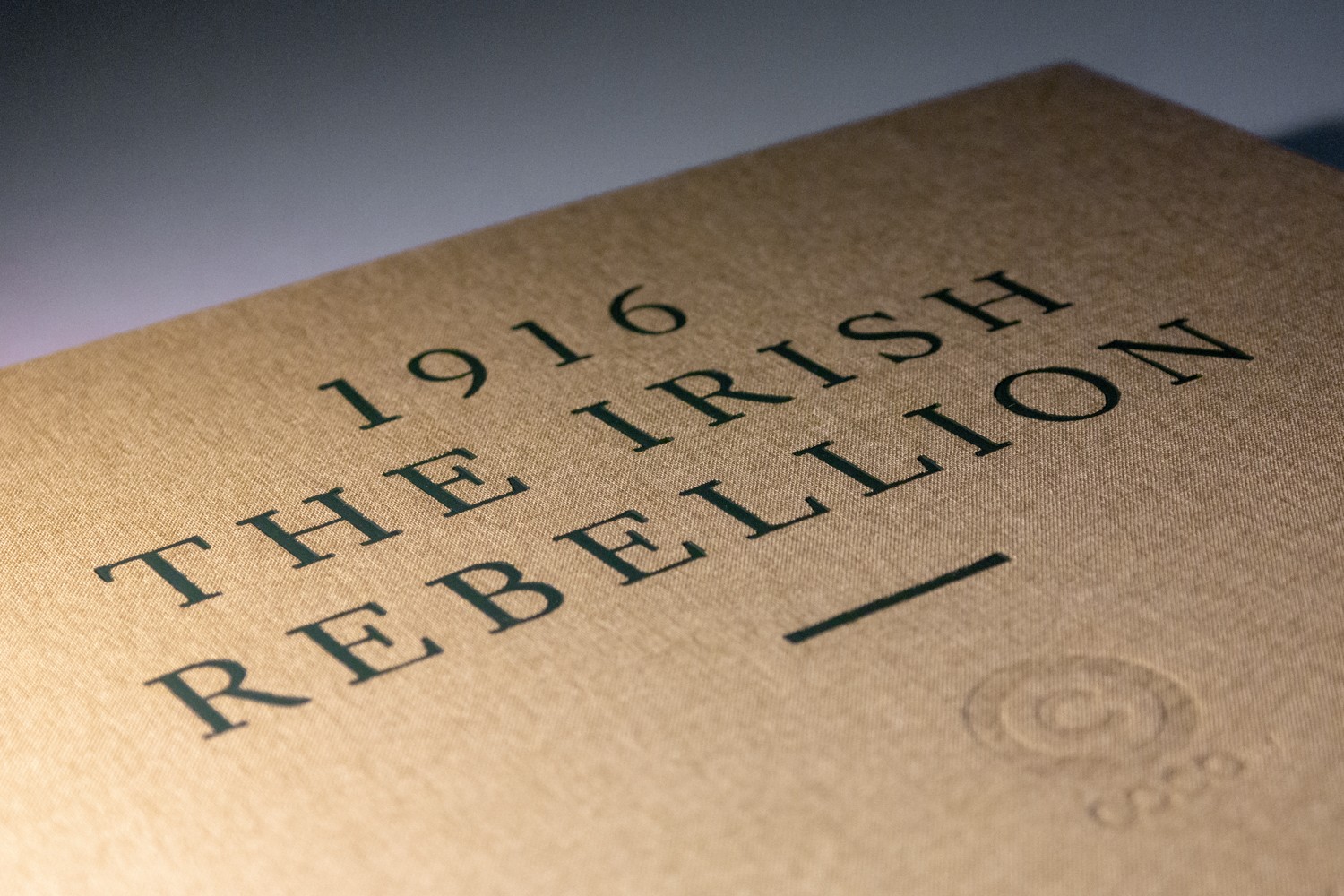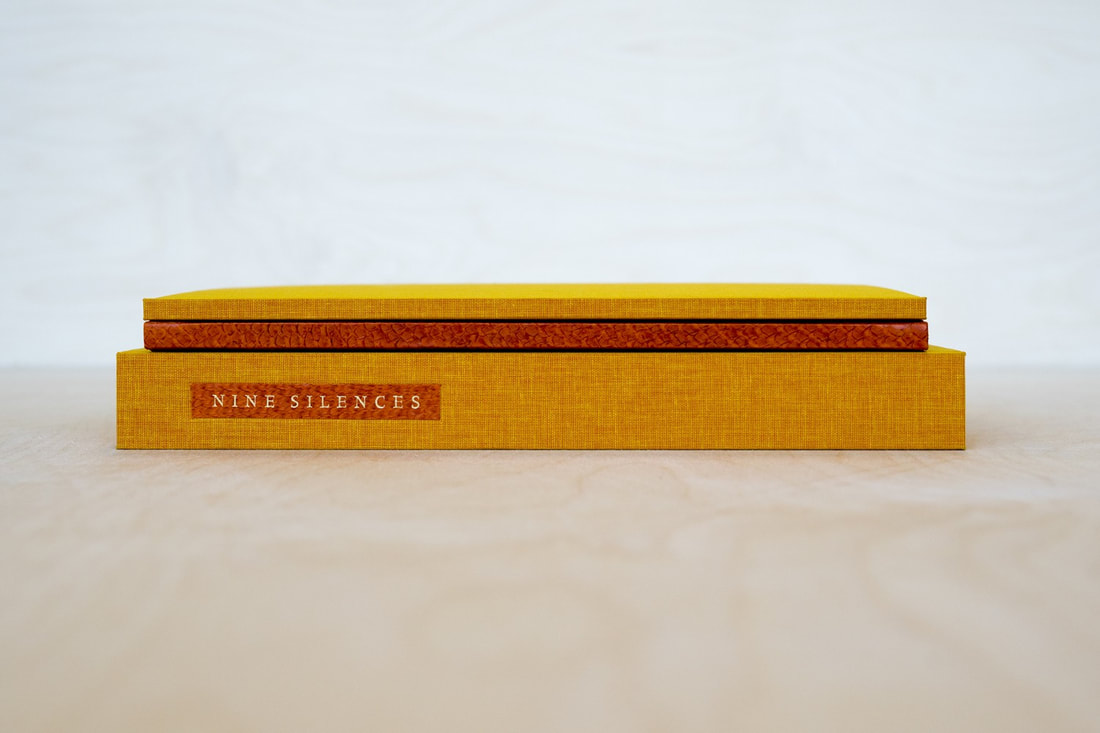 1916 THE IRISH REBELLION
This three part landmark documentary series was broadcast to commemorate the centenary of the 1916 Easter Rising in Dublin. Narrated by Liam Neeson, the project was developed by Briona Nic Dhiarmada, Professor of Irish Studies in University of Notre Dame and author of the book to accompany the series, and produced by leading Irish production company COCO Television.
The multi-award winning documentary was broadcast coast to coast in the US, on PBS and BBC and screened in theatres in 70 countries, with over 100 million viewers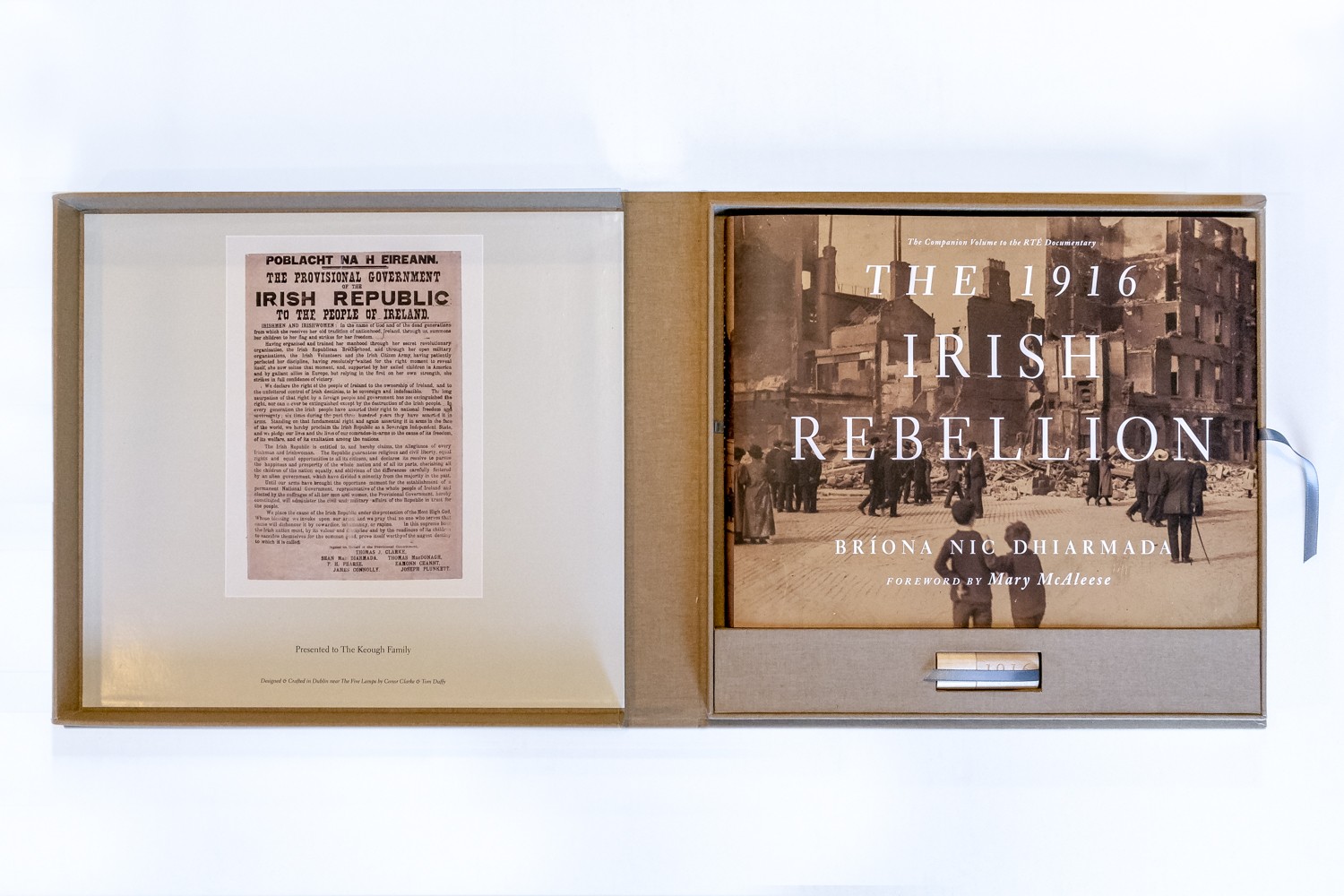 In 2018 Conor Clarke of Design Factory approached us about making a bespoke handcrafted presentation box that would house an edition of the book as well as a USB stick of the award winning documentary series.
The outcome was a beautifully designed and hand crafted cloth covered clamshell box. A combination of both green foiling and blind embossing was used on the front of the box. Each box was lined with a personalised print featuring an image of the 1916 Proclamation and the recipients name.
One such box was for 'Vice President Joe Biden'. We look forward to working on a future piece for now President Joe Biden, who has shown the world how important his Irish heritage is to him.
​More info on Design Factory at
www.designfactory.ie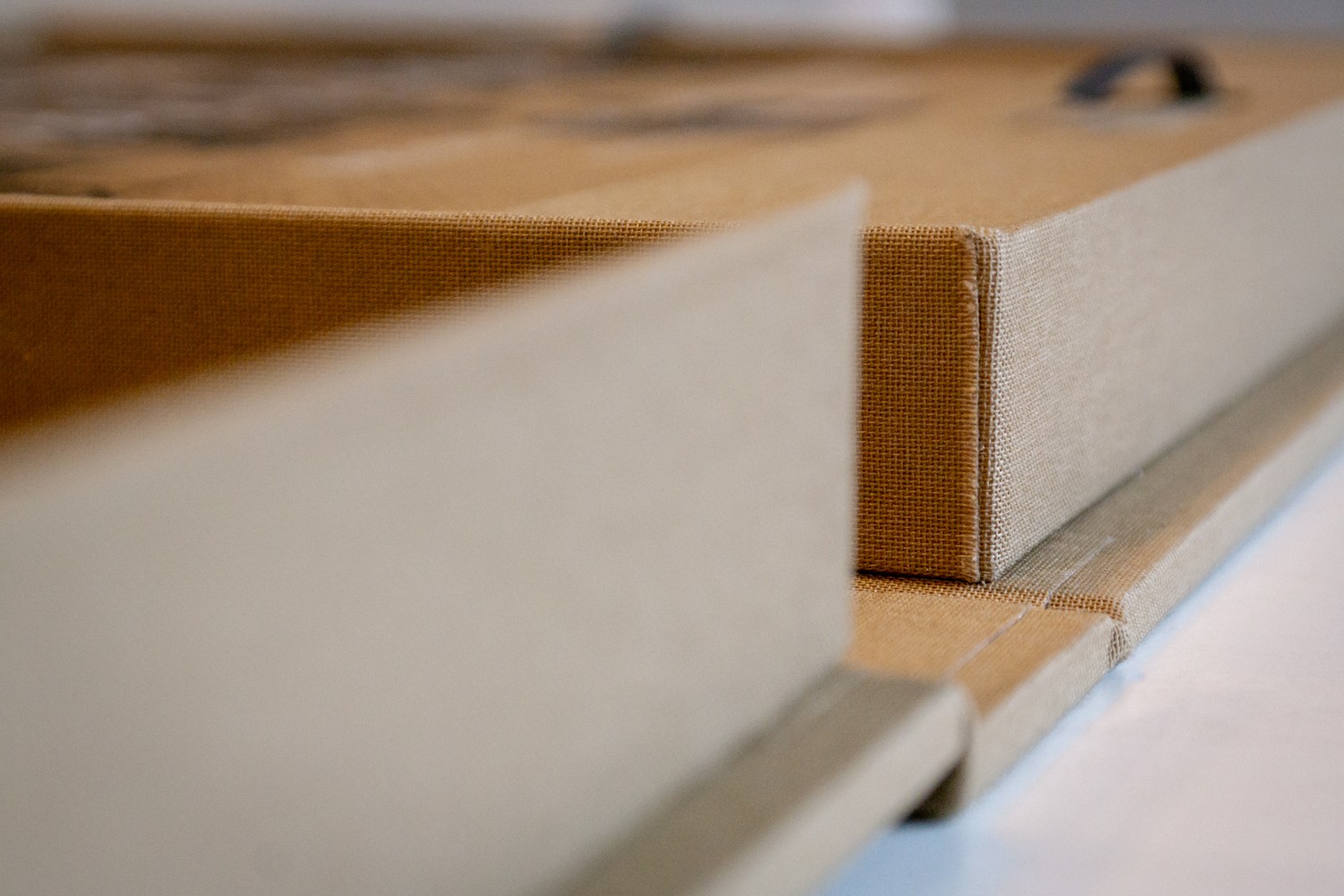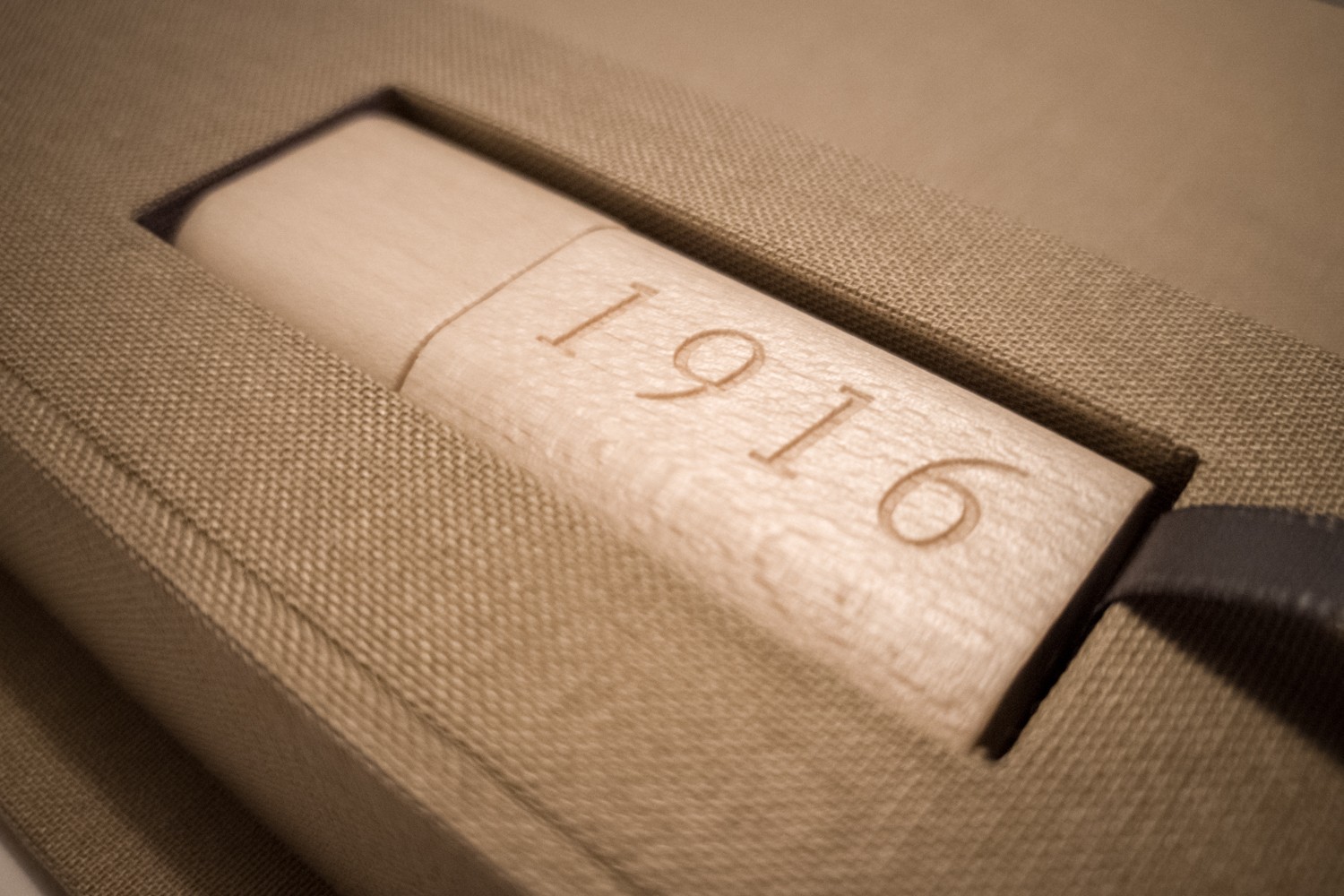 NINE SILENCES
Nine Silences was designed, typeset and letterpress printed by Jamie Murphy of The Salvage Press with assistance from Sarah O'Neill, Lorcan Rush and Lauren Shannon O'Brien. In the book poet, Doireann Ní Ghríofa responds to Art by Alice Maher. Alice Maher's fragmented woodcut has been printed from scorched and browned ash.
As with all Salvage Press publications, every minute detail has been carefully thought through as well as the source of all materials used in the printing of the book in addition to the binding. All type used in the printing was hand set in 14 and 24 point Méridien. The 150gm Hodgkinson handmade paper was produced for the Stanbrook Abbey Press in 1974 and kept dry by John Purcell Paper in London.
Printed in an Edition of 80 books, copies 1 - 50 were bound in a full marble paper case and housed in a transparent perspex slipcase. The marbled paper had been prepared by Jemma Lewis Marbling and Design using Irish Carrageen Moss. A printed lettering piece was fastened to the spine.
Copies lettered A - Z were half bound using Salmon leather (i will delve into salmon leather a little deeper in the next week or two) and marbled paper. Each of these books were accompanied by a folded down printing of the complete woodcut on 120gm Zerkall. Both were housed in a handcrafted, cloth covered clamshell box. The box featured a Salmon leather foiled lettering piece.
More info on The Salvage Press at
www.thesalvagepress.com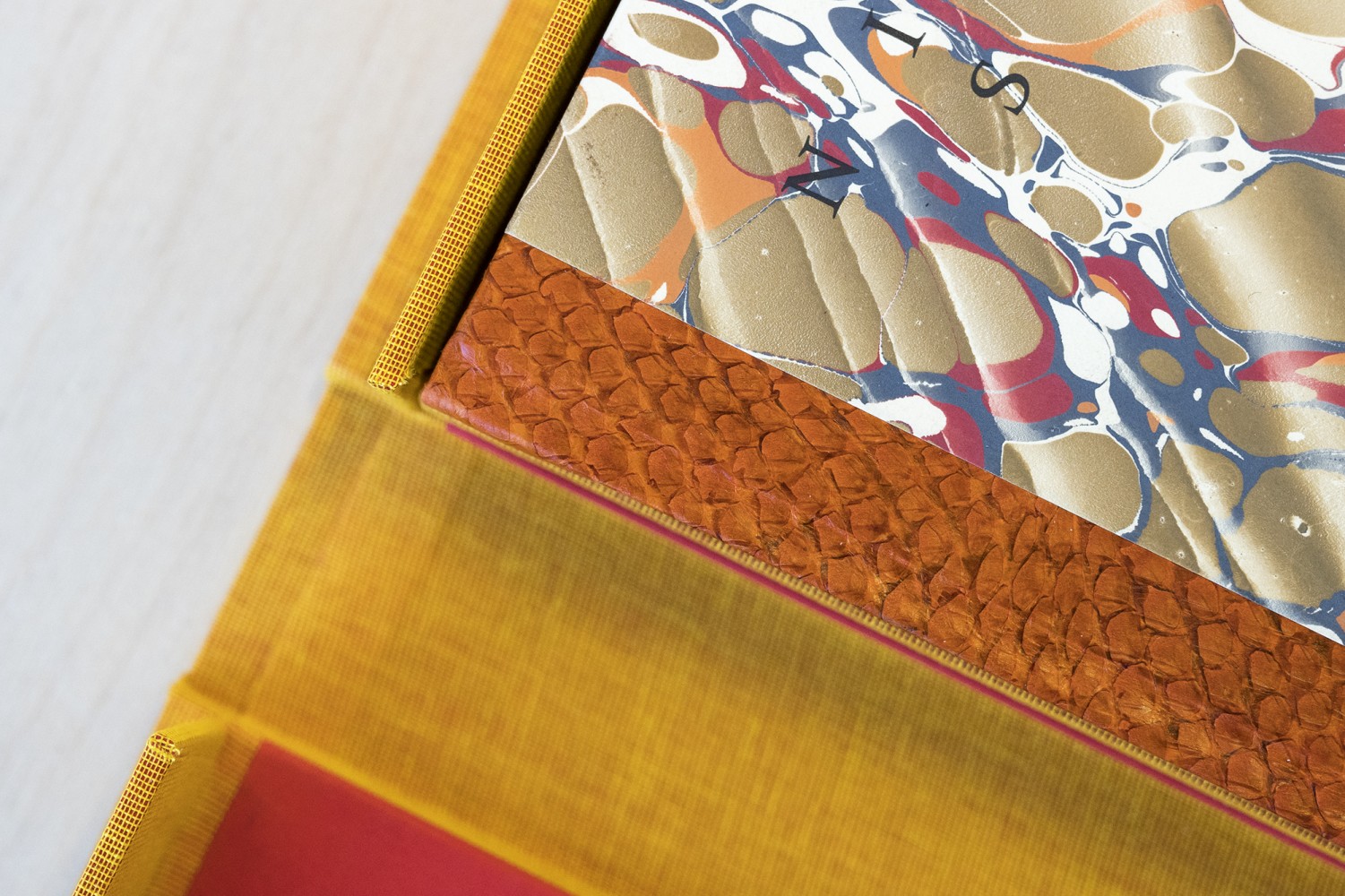 You can view all works as well as see the complete archive at
www.100archive.com